When we double click "Start – AT" shortcut, AutoTrader command window shows errors. Web page localhost:8080 shows following error:
ERROR 404: This localhost page can't be found
There could be many reasons for this, so you need to the solutions given below in order.
Solution 1
If you are running it for the first time, then your installation might have missed some files, try reinstalling.
Delete folder C:\autotrader if you want to do a fresh install
Setup downloads files of around 200 mb, so make sure your internet connection is good
Solution 2
Your anti-virus or firewall must be blocking it. Add an exception to AutoTrader process (C:\autotrader\jre\bin\autotrader.exe) in your anti-virus as well as windows firewall.
Go to Windows Settings -> Network & Internet -> Windows Firewall -> Allow an app through firewall
Click Change Settings
Search for Java(TM) Platform & tick both Private & Public columns. See image below: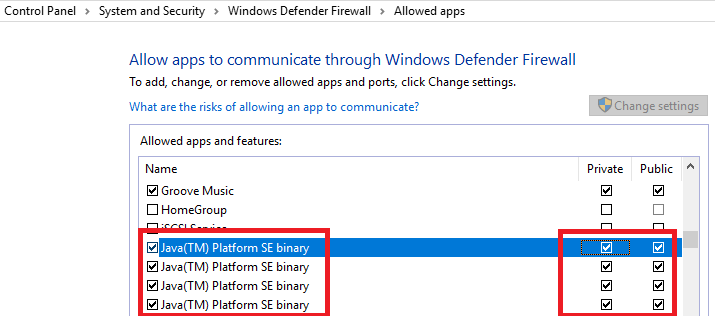 Solution 3
Go to AutoTrader Command window and press enter. Right click on this window, click properties.
In "Edit Options", untick "Quick Edit Mode".
Solution 4
Make sure you are connected to the internet. AutoTrader needs internet connection on startup to verify license.
Connect to internet, stop AutoTrader using (Stop – AT) shortcut & start it again using (Start – AT) shortcut.
Solution 5
If you are using VPN, then please uninstall it. Because it might cause AutoTrader license check to fail.
Solution 6 (Windows 7 Users)
AutoTrader installation script fails on some older versions of Windows 7. Try following:
Download this file
Save/Copy it in folder (C:\autotrader\setup)
Re-run AutoTrader Setup
The setup should complete now
Go to C:\autotrader\scripts

Right click on start.bat file (Send to -> Desktop (Create shortcut))
Right click on stop.bat file (Send to -> Desktop (Create shortcut))

Make sure you run both shortcuts as administrator